Extension of healthy life expectancy by improving eating power

June,2019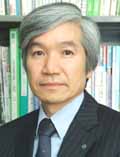 Shuji Ohkawa, DDS, PhD
President
Japan Prosthodontics Society

I have been assigned to be the president of the Japan Prosthodontic Society (JPS) in 2019–2020. I would like to express my gratitude to all JPS members.


JPS was established in 1933, became a general incorporated association in 2005, and has been a public interest incorporated association since 2013. In the 86 years since JPS was established, the population has declined, the birth rate has dropped, and the aging of society is progressing rapidly in Japan. This change in population structure necessitates that JPS contribute to the extension of people's healthy life expectancy.


One of the main objectives of JPS is "to recover form and function abnormalities in the stomatognathic system, thereby contributing to the improvement of the health and welfare of the people." In order to achieve this purpose, it is essential to improve eating power (prediction, chewing, and swallowing power, i.e., eating power) by prosthodontic treatment and to quantitatively measure the improved eating power by objective evaluation. It is the identity of Prosthodontics that can run these improvement and assessment, and at the same time this identity is the core and specialty of "Prosthodontics". Therefore, I would like to suggest "extension of healthy life expectancy by improving eating power" as the theme of JPS in 2019–2020.


Under this theme, we are preparing for success in our annual meetings, while strengthening public relations activities by staging citizens' forums (exploring the role of dentists in large-scale disasters, etc.), promoting international contributions based on JPR (IF in 2018 : 2.636), and authorizing advertisement disclosure for prosthodontic specialists, continuing the effort of every successive JPS president. 


In addition, with cabinet office approval, the accreditation system of training and certifying prosthodontists started on April 1, 2019. Deepening the interdisciplinary development and providing opportunities to improve clinical skills is the mission of JPS. I expect many more members as well as non-members to build their research and clinical skills. I would like to ask for your understanding and cooperation.